A haunted cemetary packed with mid-game loot and enemies. Proceed with caution.
Floating Graveyard

Western Coast
Information
Bosses
Kotri (Second Stage)
Items
Auto Earrings
Badges
Survival, Health Wager
The Library
[
]
An area only accessed very late in the game, this twisting labyrinth is filled with spikes and badges. Delve deep into the dark maze to find out where Irisu went.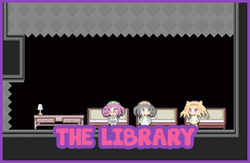 Bosses: Irisu
Items: N/A
Badges: Crisis Boost, Hitbox Down, Auto Trigger